The Ecopower Warmup Towel Rail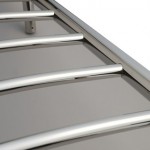 Our electric heated towel rails complement any style of bathroom while delivering the luxury of warm, fresh smelling towels at any time. Equally popular in kitchens, the Ecopower Warmup Electric Towel Rail is available in sizes to suit  small kitchen tea towels through to large bath towels.  As with Ecopower Economiser Radiators, the Warmup Electric Towel Rail operates without any liquids inside.  No maintenance is required, it cannot leak, never needs to be bled and is hand polished to ensure the highest standard of finish.
The Performance and Efficiency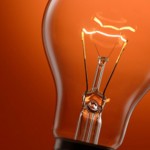 The Ecopower Heatup Towel Rail uses less power than many liquid-filled versions. It offers exceptionally fast warm-up times and excellent levels of energy efficiency. Top quality components mean running costs are equivalent to that of just one light bulb!  Our electric towel rails are IP34 rated, meaning that they are totally safe for use in bathrooms and are covered by a 5 Year limited Warranty. As with all of our products, CE certification for electrical safety is standard.
Perfect for any property
Ecopower Warmup Elecric Towel Rails are available with either a curved or straight profile. Every rail is made from 100% stainless steel which is hand polished to a mirror finish to suit any space or decor. Total robust simplicity and the inclusion of all of the necessary fittings make the Ecopower Warmup Towel Rail the ultimate choice for installers and homeowners alike. We even include a diamond drillbit, should it be necessary to locate the rail on a porcelain tiled surface. The Ecopower Warmup Rail is available with either a left, or right-hand side cable exit. Left exit cable is standard.
No fuss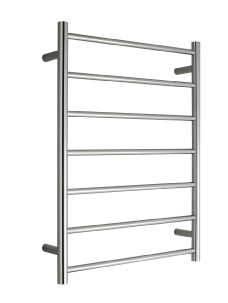 No liquids also mean no leaks, no top ups, no bleeding, no maintenance
Even heat all at once
Double-insulated resistance heating element for all rounded warming.  No need to wait for liquids to heat up on one side before another
Energy Efficient
Equivalent to just one light bulb, the heating element uses less power than liquid-filled versions
Sleek contemporary design
100% Stainless Steel, hand-polished to a mirror finish
Towel Rails are available from £189. To find out more about Ecopower Heating Towel Rails, please contact us. Our energy efficient electric towel rails are in stock now and delivery is FREE.
Also ideal in wet rooms, kitchens and staff rooms. Concealed cable kits are available on request for a perfect finish to your installation. Standard cable exit is from the left side unless otherwise stated. Call now on 0845 474 1478 to speak with an Ecopower Electric Heating expert.