We have a wind farm – and it's the biggest in the world!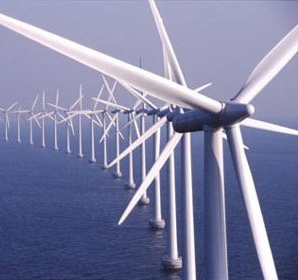 We were delighted to see that the new Thanet Offshore Wind farm is now up and running – generating an impressive 300 megawatts of power. Although questions have been raised in the past about the viability of wind turbines as a source of renewable power, it's clear that the Thanet Wind farm (off of the Kent coast) is already a great success and capable of powering over 200,000 homes when running at full capacity. British waters are perfect for wind farms because they are so windy. An offshore turbine around Britain is estimated to produce 50 percent more power than a similar one in Germany.
Yes, wind farms are expensive to build, at 880 Million pounds the Thanet offshore project may take a long time to achieve "payback" for its investors, but what other options are there? Quite simply, we cannot rely any longer on expensive, imported oil and coal that will continue to pollute our shores before running out completely.
The Thanet project helps us on the way to the target level of 15% renewable energy that must be reached by 2020 in the UK and paves the way for an even more impressive offshore wind farm further along the coast on the Outer Thames Estuary. This is expected to power an additional 750,000 homes – clearly great news for the environment and a big step away from our reliance on oil, gas and coal.
The Ecopower take on wind farms in the UK?  As our supply of fossil fuels continues to deplete and the prices rise, electric heating has to be the way forward. Already electric heating is the preferred heating method throughout much of Europe and we need to catch up quickly. Ecopower looks forward to a clean, sustainable and electric future.
Ecopower Blogger