Electric Panel and Convector heaters
This type of appliance represents electric heating in its most basic form.  Installation is generally quick and simple, often involving nothing more than plugging into a standard power socket.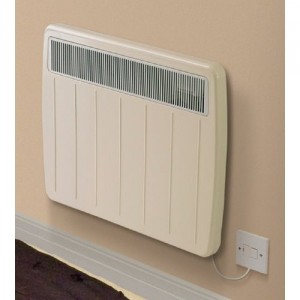 Convector heaters (also referred to as panel heaters) can be used to good effect, as a quick fix, in small areas where instant heat is required for short periods of electric heating. They work by circulating cool air over a heating element. The air is warmed and rises through a vent. As the warm air leaves the electric heater, cool air is drawn in, which causes a circulation of heat in the room. Room temperatures can, however, be quite uneven with warm pockets at the ceiling level, and cold draughts near the floor. Electric convector heaters are generally cheap to buy, with prices starting from around £20, but should not be confused with electric radiators. Standard models are usually controlled with a basic on/off switch, low and high temperature setting, and overheat protector. Running costs are generally high, so this type of electric heating is not usually viable for areas that are often occupied, or where a full system is required.

The convected warmth generated from this type of electric heating does not generally allow for large areas to be heated effectively, and the single, and often exposed heating element uses the full wattage capacity for the duration of the time that it is in operation. In terms of lifespan, it is not uncommon for electric convector heaters to fail within one or two years. The electric heating elements are subject to failure while burning dust and the integrated electronic controls operate at high internal temperatures meaning reliability is limited.
Electric Fan Heaters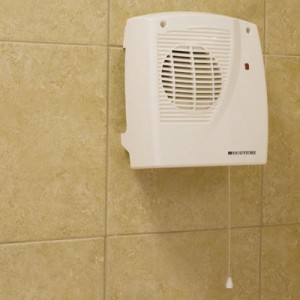 Fan heaters (also referred to as Forced Convection Heaters) are widely available in many shapes and sizes, ranging from small desk top units of just a few hundred watts in output, to several kilowatts for some commercial applications.
Typically, these electric heating appliances cost from as little as £15 and are supplied with a one year warranty period. An electric fan is employed in the design of these electric heaters to force cool air over an exposed heating element. This pushes warm air through, creating a fast warm-up time, working in a similar manner to a hair dryer.
Generally supplied as a stand-alone unit for the domestic market, installation is not required, and the appliance can simply be plugged in to a power socket. Some larger, more advanced fan heaters can be used to good effect in commercial applications as an "air curtain" above busy doorways in shops or offices.
This fast transfer of heat can be beneficial in small areas where warmth is required quickly, and for only short periods, but fan heaters for domestic purposes are not generally recommended. They are not usually regulated by a thermostat and have only basic power settings. This lack of control, and the inefficient manner in which heat is produced, makes electric fan heaters unsuitable as an effective electric heating system. The fan can create a high level of noise, and, as with any heating appliance that relies on moving parts and an exposed heating element, the expected lifespan is comparatively short.

Next page: Liquid and Gel-Filled Electric Radiators