Gas and Oil-fired Central Heating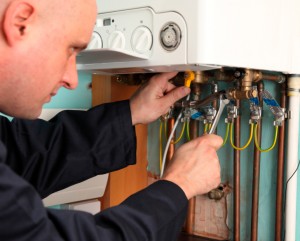 The price of domestic-supply gas has risen sharply and is likely to remain high for the forseeable future. We are no longer self-sufficient in gas here in the UK, and now compete financially for the decreasing supply with growing demand from other countries.
Installing a gas central heating system is usually a time consuming, and often expensive job when compared to the installation of electric heating, especially if the system is to be retrofitted. The installation requires a qualified person to carry ou the work, which is labour intensive, and requires many components and materials to complete.  If the property is not connected to the gas mains network, connecting the property can also be costly as it usually involves extensive ground works and a team of engineers. In these cases, an electric heating system is often preferred.

As we discussed in another blog relating to the reliability levels of electric radiators versus wet central heating systems, the refinements made to gas boilers in an attempt to increase efficiency have had a very negative effect on the reliability and longevity of the gas boiler since the government introduced regulations meaning that only condensing boilers are permitted in new-build and refurbishment works.   In many cases, cost savings over traditional boilers  are reportedly negated due to the higher purchase price, increased number of break downs, and shorter life span.
In most instances, a modern domestic condensing boiler and flue of average capacity costs around £1000 to buy. Installation of the associated hot water cylinders, pumps and pipe work is relatively easy in new-build properties, but can be particularly disruptive and costly in refurbishment works. A typical installation of a three-bed property might involve some works to the property itself, such as lifting floor boards and carpets, chasing cabling through walls for electrics,  and plastering and decoration as well as the installation of new heating equipment. For a full installation, fitting a new boiler and flue is only a small part of the job.  A hotwater cylinder, pump, control system, valves,  loft tank, pipe work and radiators need to be comissioned also at a typical cost of around £1500.  This will usually take two qualified contractors five days. The average cost for labour for this is around £2000, but this can double if the property remains occupied during the works as carpets and floor boards must be removed and refitted each day. This aspect of the installation often makes fitting electric radiators a much more appealing proposition.
Although this form of heating is widely acknowledged to offer low running costs, efficiency levels are not as high as those offered with electric heating systems and installation requirements are significantly higher. Up to 30% of the generated heat energy can be lost in the exhaust gas emissions up the flue, with more heat still being lost through the lengths of copper pipe work that transfer the heated water around the system.  Gas-fired central heating systems, whether radiator based, or under floor, also require an uninterrupted electrical supply to operate the pumps and control systems while they are in use. Much the same as an electric heating system, conventional wet systems will not operate during a power cut.

Control is usually provided through a centralised thermostat, and basic temperature control over zones can be achieved with the addition of thermostatic valves. Heating of specific areas can be difficult however, as a centralised boiler, tank and pump are still employed. Building regulations state that existing gas boiler heated wet systems must not be extended to heat extensions or conservatories added to properties after the heating has been installed. In these instances, electric heating provides a simple and cost effective solution.
Other key considerations regarding gas-fired wet central heating systems, are the ongoing maintenance costs. One in three new condensing boilers break down at least once within the first six years of use. They are prone to freezing in cold conditions, when they are most needed, and the average life span is said to be around 10 years, instead of the 20+years that we were accustomed to with standard gas boilers.  Annual break down cover charges for homeowners start at around £160. Yearly servicing and gas safety testing is also required for tenanted properties, which usually costs around £150. Recently published figures discussed in our electric heating blog show that the advent of condensing gas boilers spelled the end for reliability and maintenance costs have increased accross the board.
Next page: Heat Pumps and Renewables

>