Clients involved in housing refurbishment projects often seek help when forming a strategy, so in this guide we take a view on electric heating as a whole, and look at how alternatives such as gas, oil and heat pumps compare in the real world.
In some of our past blogs we have discussed the merits of our Economiser Electric Radiator systems and the benefits of the system over any other type of electric heating appliance, but recently, some clients have wanted to know more about how electric measures up against other forms of heating. There's just so much to take into account, aside from the initial purchase price, and subsequent running costs.  Installation requirements, reliability, longevity, maintenance, and the unique requirements of each user and application have equal relevance when choosing the most suitable electric heating solution. Read on to discover some of the pros and cons of each option.
Electric Heating
Key to the running costs of any form of electric heating is the tariff. Finding the cheapest rate from your energy supplier is essential when considering affordable electric heating. The Official Energy Watchdog (now part of Consumer Focus) provide a simple tool to help find the best value supplier in your area.
Unlike the fluctuating gas and oil markets, which are affected on a daily basis by world economics, electricity in the UK has always maintained a relatively level price. This price is likely to remain predictable despite the current reliance on gas to power many modern power stations. As the supply is constant, and, thanks to committed investment in renewable energy from wind farms, and cleaner, nuclear power facilities, electricity is a clean, safe and "future proof" energy source.

Electric Night Storage Heaters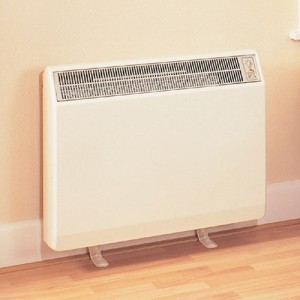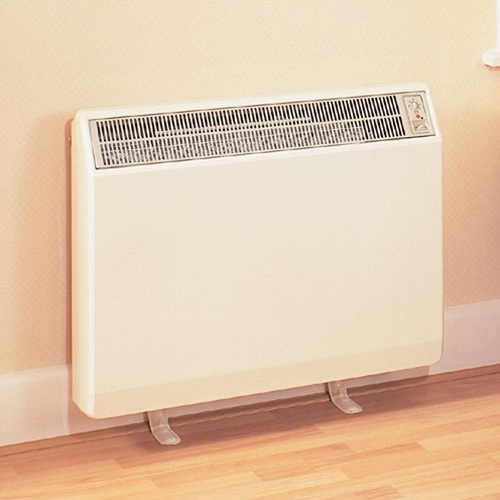 Electric night storage heaters were invented in the late 1940's as a modern heating alternative. Everything electric was viewed as modern and efficient at the time and the market was ready to change. Power stations were built to supply the ever increasing day-time power demand, but to maintain efficiency, the power stations needed to continue running at night when demand slumps. The advent of storage heaters created that over-night demand, and so, solved the problem. The design of electric night storage heaters remains largely unchanged to this day.
Electric storage heaters use an Economy 7 tariff which provides seven hours of electricity at an "off-peak" rate overnight. Suppliers generally increase the standard rate charge by approximately the same amount that the overnight is reduced. This effectively negates any cost saving in most cases.
The power is used to charge bricks inside the heaters with heat, which is then used to heat the property. This method of heating is not advisable for properties occupied by those who work during the day, as the stored heat is usually lost by the following afternoon. During the periods that the stored heat is spent, a secondary heat source must be used. Some modern storage heaters offer a "boost" function to overcome this, but this relies on a standard -rate electrical supply to feed a built-in convector heater.

We discussed electric night storage heaters in detail in a previous blog post, and it's clear that on the whole, the disadvantages outweigh the advantages of these out-dated electric heaters. This view is reinforced by the many housing associations and landlords across the UK, who are now tasked with replacing thousands of ageing storage heaters, with more modern and efficient forms of electric heating.
Storage heaters are now very rarely installed in new-build properties and will soon become a thing of the past.  Research into the most modern of night storage heaters, shows that they remain inefficient, while still reliant on both off, and on-peak electricity, to maintain warmth in most applications.
In summary, electric night storage heaters are bulky, ineffective, lacking in control, and very inefficient. The huge demand for alternatives shows that this form of electric heating cannot provide a practical or affordable long-term solution any longer.
A point worth noting when refurbishing old or derelict properties is that storage heaters manufactured before 1974 are likely to contain asbestos, which requires specialist care in handling and disposal.
Next page: Electric Panel, Convector and Fan Heaters