Water-Filled Electric Radiators
To bridge the gap between conventional "wet system" radiators that are used with a gas-fired boiler, there is an electric water-filled variant that is designed to look similar. This type of electric heating is popular with homeowners who require a very conventional looking electric radiator system, but do not have a mains gas supply.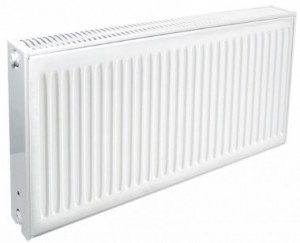 Installation requirements vary as some units are free-standing, and can simply be plugged into a standard mains socket, but others may need to be operated as part of a pilot-wired system with central electric heating control. The initial purchase cost of water-filled electric radiators is high, at around £500 for a medium sized radiator.

The radiant heat produced by this form of electric heating gives a comfortable warmth and uniform temperature in most well insulated rooms and can be controlled by various methods. Most water-filled electric radiators are fitted with integrated temperature control and room thermostats, but some can be controlled simultaneously by a centralised thermostat at an extra cost.
Reliability, and also the energy efficiency of these water-filled electric radiators are questionable and manufacturers' warranty periods are usually no more than two years. Because the radiators are not plumbed-in and connected to a central hot water tank and pump, each radiator has an individual pump installed within it to circulate water around the internal heating element. These pumps draw additional power and contain moving parts, meaning that the power consumption and longevity of the unit is affected. These electric water-filled radiators can make noise during the heating cycle.

Liquid and gel- filled electric radiators
In recent years, liquid and gel-filled electric radiators have become widely available in the UK from many different foreign manufacturers. Most are operated with basic integrated controls and thermostats; some contain oil or other such liquids, while others contain a gel as a medium for transferring heat from a single heating element, to the aluminium outer casing.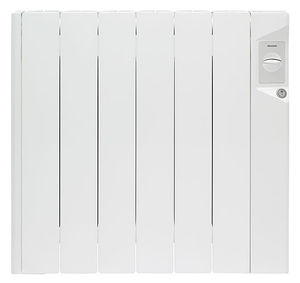 Installation is generally easy as most liquid-filled units are supplied with basic integrated controls, a moulded 13 amp power plug, and the option to either wall-mount them or leave them free standing. Pricing for these electric radiators varies wildly, but functionality and performance is similar across the board. Often, a unit costing just £30 will perform as well as another that costs £400, and also give the same running costs.
The warranty periods applied by manufacturers usually vary from one to ten years. The conditions of the warranty need to be checked carefully though, as the electronic parts of these electric radiators (i.e. the integrated control) are normally not covered by the main warranty period.  As this circuitry is the component that is most likely to fail, a radiator unit covered by a 10 year guarantee may, in reality, only be covered for one or two years at best. Aluminium is subject to expansion and contraction during heating and cooling, so special attention needs to be paid to the quality of manufacture. Cracked welds will cause harmful chemicals to leak.
….


…                                  …………..                                 ………………                               ……………..                         …………..                 …………..          ..
When installing any electric heating system, it is essential to calculate the overall loading on the circuit. When using simple plug-in radiators which use single elements and minimal storage capacities, it is all too easy to overload a circuit. Cheap, liquid-filled plug-in electric radiators cannot be considered as a viable heating system in larger properties. Loadings on the circuit are unpredictable and can be dangerous.
Other points to note for commercial applications such as offices, is that electric radiators or heaters that have built-in controls are often unsuitable. If controls are located on the electric radiator itself, and the unit is plugged in to a socket, the appliance will usually be subject to annual PAT safety testing in order to meet with health and safety requirements. The cost of PAT testing varies, but a call-out fee of around £100, and additional charge of a couple pounds per appliance is usual.

A variety of wattage outputs are available to heat small rooms as well as mid-sized areas, but with outputs not generally exceeding 2 kilowatts, some struggle to provide enough radiant heat for larger rooms, or areas with high heat-loss characteristics, such as conservatories and older buildings lacking in insulation.
Next page: Electric Under Floor Heating